I have a horrible style problem. It's called "grew-up super conservative and now don't have a clue". On a normal day, I wear jeans. I wear a basic t-shirt with them, because I don't know what else to wear.
But, it' getting boring. A new season is coming up soon and last year's short sleeve t's are looking pretty worn. Rather than just replacing the same old basic t with more of the same old basic t, I thought I would try other tops.
The thing is, I don't have a clue what I'm doing. I am short - 4' 11 1/2" - AND short waisted AND I have a blobby gut... a pooch... a hanging bag of fat... you know, one of those. This makes it hard to wear button down shirts, since the size that will fit nicely across the shoulders and bust cannot be buttoned across the lower belly. It also makes things interesting with those cute empire waist shirts. I automaticly look pregnant.
I did some looking around online and found these cute tops. Problem is, I don't know if they would make me look pregnant. What do you think?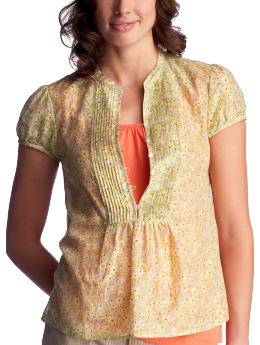 On to weight loss goals, I haven't made much progress this week. I still just don't have an appetite back after being sick. So I haven't been eating much of anything, which has drasticly slowed down my metabolism.
How are you doing with your physical goals?